And the 2021 draft prep data dumps continue. Today, the injury chances for hitters and starters take center stage. I've been trying to wrap my head around injuries since I've started writing about baseball. The reason it's a difficult subject to nail down is that the information is spotty.
Also, if a player checks all the factors to head to the IL (Injured List), he could have that one magical season (i.e Stephen Strasburg in 2019) when he never gets hurt. Adding to the mess is that the league moved from the 15-day IL to the 10-day IL, back to the 15-day IL (for only pitchers), and then just started making up rules for 2020. Through it all, the following risk assessments cut through a lot of the narratives and are solid going into next season.
Starting Pitchers
During the extended offseason, started reinvestigating my analysis of pitcher injury chances with a literature review, injury chances, and how injuries lead to increase aging. While age and fastball velocity are still factors, career IL days and arm injuries are most likely to point to future injuries and degraded performance. The simple thresholds were 120 career IL days and three or more arm injuries. Here is a list of the starters (min 10 IPin 2020) who meet both criteria (full list).

Starters With High Injury Risks
Notes
The one name that sticks out is Gerritt Cole. Back in 2016, Cole had several arm related injuries but he hasn't had one for a few years (h/t to Derek Rhodes for the graphic).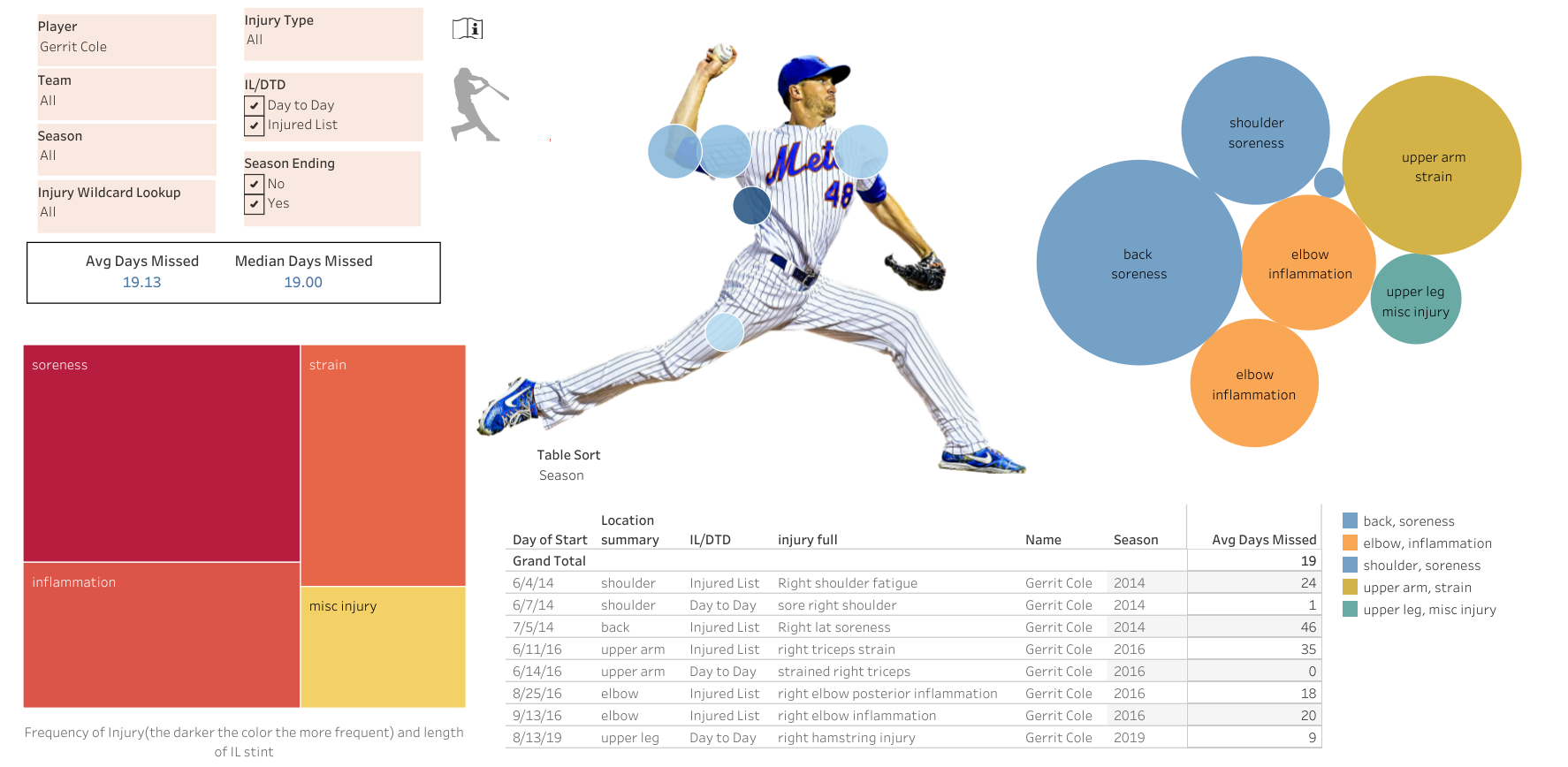 Yu Darvish is likely the next pitcher on the list to be drafted next season The 33-year-old has found a way to stay off the IL the past two seasons. Maybe he can keep it up.
Carlos Carrasco, Charlie Morton, and Clayton Kershaw continue to go early in drafts and continue to keep getting hurt. At some point, fantasy managers need to start getting a discount on them.
I'm likely to just stay away from the high-risk pitchers and focus more on those in the other two groups.
Hitters
It's always been harder to know what injury will be the one that begins a hitter's spiral downward. This past summer, I examined several factors and found that a hitter may start seeing a decline around 200 IL days. Once he hits 300 IL days, the injury-related decline accelerates. Knowing those thresholds, here are the 2020 hitters who have accumulated at IL days (full list).
Batters With High Injury Risks
Notes
The list is basically a list of old players with the average age being 32.2 years old.
While several hitters under-30 populate the list, the youngest is a complete shock to absolutely no one … Byron Buxton.
In the early mock drafts, the hitter being taken first is Nelson Cruz (65 ADP) with the next two, Tommy Pham and Giancarlo Stanton going back-to-back just after pick 100.
Many make this a complete do not draft list, but I don't go that far with hitters. For me, the player must be easily replaceable. Take Travis d'Arnaund. In last year's NFBC drafts, he was going on average at pick 246 after breaking out with the Rays the previous season (.792 OPS with 16 HR). At pick 250, why not take a chance on d'Araund who I had ranked as the 111th player based on a full catcher season of at-bats. Drafting him over 100 picks later was a no brainer.
Source link